What is Hydro Excavation?
Hydro excavation is the process of removing soil with pressurized water and a vacuum to excavate material. It is ideal for removing soil around existing facilities and is less destructive than heavy machinery. It can be used for many excavation applications.
Applications for Hydro Excavation:
→ Underground utility repairs
→ Trenching excavation
→ Sign and pole installations
→ Potholing or daylighting
→ Pipe and sewer rehabilitation
→ Landscape areas, green belts, paved areas, etc.
How Hydro Excavation Works
Terra Contracting's hydro excavation team utilizes the RAMVAC Hydro Excavator truck. It combines high-pressure water and a high-powered air vacuum. This system precisely cuts through the soil, breaking it up into a slurry which is then vacuumed from the excavation area, transferring the debris into a debris tank. The target utility lines, safe through the excavation process, are then exposed for whatever work needs to be performed, leaving the areas around the work zone undisturbed.
Benefits of Terra Contracting's
Hydro Excavation Services
Our hydro excavation services bring a number of benefits to the industrial excavation world. In fact, it is one of the most preferred methods of digging or trenching due to its accurate and extremely efficient results. No more of the line breaks that traditional excavation methods are susceptible to.
Using our hydro excavation services avoids damaging underground pipes, lines, and cables and further reduces or eliminates high expenses associated with repairing damage from traditional excavation, as well as downtime of the service. Hydro excavation truly is a game-changer for certain projects, and our experienced service teams use the latest trucks and equipment to ensure each project is planned and executed with precision.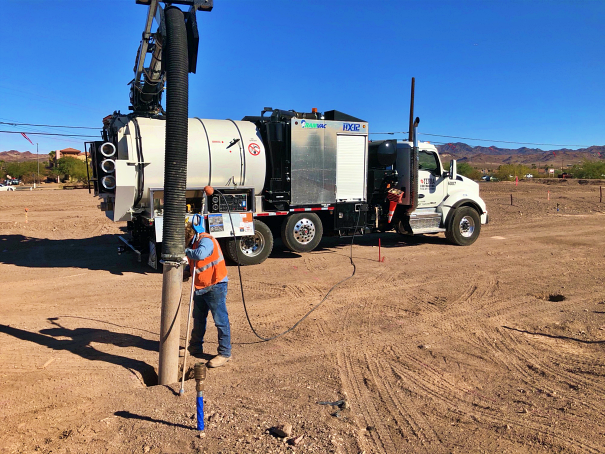 To learn more about Terra Contracting's hydro excavation services, please contact us. If you have an excavation project, we welcome the opportunity to give you a FREE bid.